Sunday Small Groups
9:00 am through October, 10:00 starting November 4,2018
FUMC offers an array of Sunday school classes for every
individual. You should find the perfect fit for your spiritual needs.
Nursery:
The Nursery is staffed each week, from 8:45 am until the end of the second worship service. Bible stories and videos for infants through 2 years old offer an introduction to God's Love. Marty Nolte is our Nursery coordinator.
Children's Classes:
Beginners, room 202: Three and four year olds get to know God's Love with Bible stories and verses, music and crafts.
Kindergarten - 3th Grade, rooms 200 & 201: Children meet friends and get acquainted with new ones in our Sunday School program. This program allows the children to explore the bible through crafts, drama, games, stories and song.
Grades 4th & 5th, room 204: Bible stories and games help this class learn how much God loves them and to develop a lifelong faith.
Youth Classes:
Mid-High: 6th, 7th & 8th grades, room 304. Led by Michele Moon and Scot Calfee, this year, we are on a Great Adventure through the Bible. DVDs, music, games, practical application, and food for the journey will be a regular part of our Sunday mornings.
Senior High: 9th through 12th grades, East Fellowship Hall. Led by Chris Komorech, this class allows the youth to choose their own topics each week. Feel like talking about prayer? You got it. Feel like talking about living a Christian life? You bet. Come on down and be a part of the discussion.
Adult Classes:
Men's Class, room 300, is led by Bob Cooper. Discussion is thoughtful and includes current religious and social topics intermixed with ideas generated from the scripture-related reading.
Adult Bible Study, room 301, led by Bob and Katherine Sawyer, regularly reads and discusses books by noted Christian authors.
Kaleidoscope, room 302, led by Jan & Dave McLaughlin.
They discuss the application of our faith to daily life, and are intentionally trans-generational.
The Stages Class, room 303: This class engages in discussion material which focuses on scripture and helps to develop positive traits in children and families. No homework is required other than sharing what you learn with your family!
Emmaus Class, room 305, led by Deb Fannon, typically reads and discusses books on topics of life and faith.
GIFT: Growing In Faith Together, Fellowship Hall, led by Stephanie Shields. Studying various books, this group applies the stories to their lives, life's challenges and faith.
Small Groups through-out the week
Mondays:
Youth United (YU) High School, East Fellowship Hall, from 7:00 - 8:00 pm, led by Chris Komorech.
Tuesdays:
Prayer Teams, Prayer Chapel, at 6:30 am and 6:00 pm. Groups meet at scheduled times (Prayer Teams) to share joys and concerns as provided by the Church, members, community and beyond. 30 minutes of sharing, offering silent prayer and writing notes to those lifted in prayer. Anyone can join a Team for that day; just meet in the Prayer Chapel (first floor, across from the Church Office).
Connections Women's Bible Study, room 301, at 6:30 pm: For more information please contact Teresa Jacoby at [email protected] or Wendy Miller at [email protected]
Wednesdays:
Esther Circle, 2nd Wednesday of the month, East Fellowship Hall, 9:30 am led by Beverly Thompson and Marjorie Hutt.
Deborah Circle, 3rd Wednesday of the month, East Fellowship Hall, 9:30 am led by Katherine Sawyer.
Mary Circle, 3rd Wednesday of the month, room 304, 6:00 pm, led by Carolyn Franks.
Cherub Choir, room 200, 6:00 - 7:00 pm (Sept, - April), led by Jeff & Julie Ferguson. This choir is for children PreK and Kindergarten. The children come together for story, song and prayer.
COOL (Children Of Our Lord) Kids, room 201, 6:00 - 7:00 pm (Sept. - April), The NWMSU Early Child Development Center leads the children in crafts, scripture, story, prayers and songs. Children 1st - 4th grades are welcome.
CREATE: Experiencing God through Art, room 301, 6:00 - 7:00 pm This is a self directed, open space to gather and create soul cards and faith journal pages. We do not have a facilitator but still welcome people to gather and create, supplies provided.
The Depression Cure book study: This group will journey together through a book study that will serve as a safe place where god's healing can take place to a healthier life free from anxiety and depression. In the past decade, depression rates have skyrocketed, and one in four Americans suffer from major depression at some point in their lives. Dr. Stephen S. Ilardi sheds light on our current predicament and reminds us that our bodies were never designed for the sleep-deprived, poorly nourished, frenzied pace of twenty-first-century life. Please join us for a weekly hopeful reminder that God's love never quits.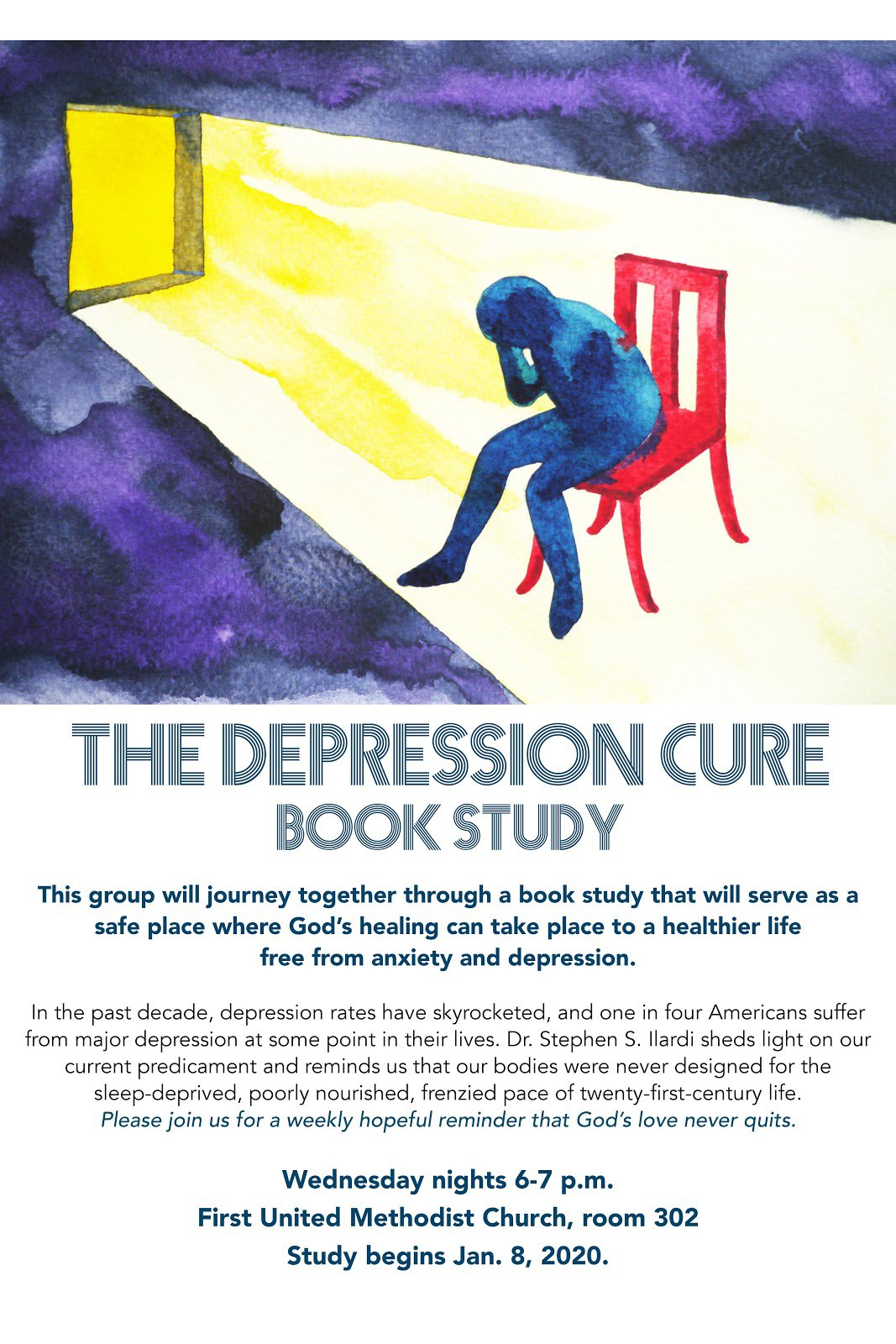 Focus Women's Bible Study, room 300, 7:00 pm led by Kathi Ridenour.
Pastor's Study, Gathering Space, 6:30 - 8:00 pm. The Pastor's Bible Study will resume January 8th with a new study focus and a new study location. We will be meeting in the Gathering Space for a study on Methodism 101 and a pictorial journey of Kim and John's 2018 Wesley Pilgrimage to England. This 8 week study will have scriptural and devotional reflections.
While not required for the study, attendees are encouraged to purchase a copy of Steve Harper's Devotional Life in the Wesleyan Tradition: A Workbook (Pathways in Spiritual Growth-Resources for Congregations and Leadership).
We will also be working through a video series on the Means of Grace. We will use resources from Andrew C. Thompson's book and video series by the same name.
Pastor Kim and John will both lead this class. Feel free to invite someone to the class.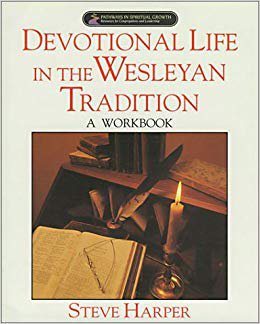 Chancel Choir, room 305, 7:00 - 8:00 pm, (Aug. - April), led by Vanessa Parsons. This choir sings on a regular basis during Sunday worship. All persons 8th grade through adults are welcome.
Quilters and Crafters, Fellowship Hall, 1:00 - 3:30 pm. These groups come together and work on projects for the annual November UWM Church Bazaar.
Youth United (YU) Middle School, East Fellowship Hall, 5:30 - 7:00 pm, led by Kati Hornickel.
Thursdays:
Friends Caring, Fellowship Hall, 1st Thursday of the month, 4:00 - 5:00 pm. For those who find themselves alone...by choice, a divorce, a death, or other circumstance, the Friends Caring group welcomes you for an hour of sharing and scripture with dinner immediately following at a location TBD.
If you would like to be a part of any of these small groups, please feel free to just show up or you can contact the church office for more information.
Note: Child care is provided Sunday mornings and Wednesday evenings and can be provided during most other Bible studies with prior notice. Please contact the group leader or the church office at 582-4821.