Upcoming Events
ChOW Menu
September
September 7th - Goulash, vegetable, and bread
September 14th - Chicken strips, mashed potatoes with country gravy, and bread
September 21st - Pasta with Alfredo sauce and sausage, vegetable, and bread
September 28th - Chicken and noodles with mashed potatoes, vegetable, and bread
Junk for Jesus - Fall Edition
Junk for Jesus – Fall Addition – October 1st 7:30 am – 12:00 pm
The Junk for Jesus event was a huge success. We will be hosting another Parking Lot/Gathering Space sale on October 1st. The youth will raise money by selling spots – Single parking spot $25, double parking spot $40, Fellowship Hall single booth $40, Fellowship Hall large booth $50. Reserve your spot today!
The focus will be mission/ministry driven. For example, if the ChOW team decides to set up a booth and sell breakfast and/or lunch the money they earn will go toward the ChOW ministry. If the children's Sunday school class makes items to sell, they can pick a mission/ministry for their earnings to go. If Habitat for Humanity has a spot they can bring awareness to their organization and raise money for their current local constructions.
All outside vendors, flea marketers, craftsman, and anyone wishing to have a garage sale are also welcome. Besides the cost of their spot/booth, which would go toward the youth ministry, they have the option to donate a percentage of their proceeds to a ministry. However, this is not a requirement. Any spot/booth that is supporting a mission/ministry, will have a sign stating their chosen mission/ministry.
Questions?, please see Stephanie.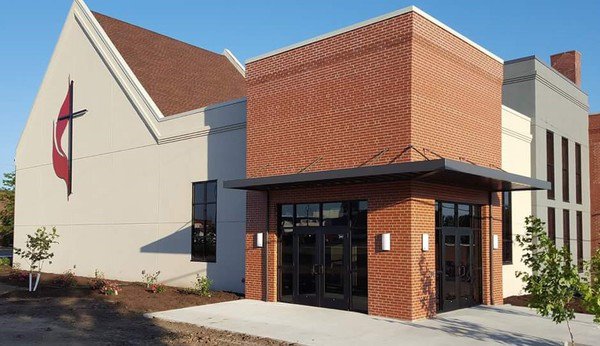 Worship Schedule
Sunday Worship
9:00 am & 11:00 am
Sunday On-Line Facebook Live
9:00 and 11:00 am

We want to connect with you!
Here are the resources we offer at
First United Methodist Church Maryville, MO.
Sundays - Worship 9:00 & 11:00 a.m. Our love for Jesus and our desire to worship never ends. Our 9:00 am worship is a more traditional type of service with hymn, Chancel Choir, Bell Choir, prayers, scripture, and preaching. The 11:00 am service is more of a contemporary style of music with prayers, scripture, and preaching.
Curbside ChOW dinner, Wednesdays 5:00-6:00 p.m. Come to the NW Main Entrance. Runners will bring to-go meals to you in your car. We pray you are nourished in body and spirit.
Dine-In ChOW - Wednesdays 5:30 - 6:00 pm - Join us for fellowship and food in the Fellowship Hall. Doors will open at 5:30 pm and come get a boxed meal, sit down and enjoy visiting with your church family and friends.
MESSY Church - What is MESSY Church? The opportunity to come back to fellowship! The opportunity to eat and fellowship with family and friends and stay for a while for family-oriented activities, playing board games, cards, or simply continuing to fellowship.
Wednesdays in the Fellowship Hall
5:30 – 6:00 p.m. Get a boxed CHoW meal and dine with family and friends.
6:00 – 7:00 p.m. Fellowship hour, activities, and games.
(Doors will open at 5:30 p.m. for Messy Church mealtime)
Find us in a variety of ways. We'll be watching and listening for you.
https://www.maryvillefumc.org on the web or [email protected] for emails
https://www.facebook.com/FumcMaryville on Facebook
www.youtube.com and search MaryvilleFUMC
660.582.4181 church office, 102 N. Main St., Maryville MO 64468 to mail items
We care about you. If you would like prayer or just want a conversation, please contact us. May the grace and peace of Christ abide with you.